See + Do = Learn
Activities
Get ready for an unforgettable journey though architecturally stunning country towns, thoughtfully curated galleries, captivating museums and historic sites. Your visit here will take you outdoors over rich agricultural river flats, through untouched National Parks and even underground to magnificent prehistoric caves.
Select the location and the type of activity you would like from the search box.
Forbes Cemetery Historic Graveside Walk
Johnson Street/The Bogan Way,
Forbes, New South Wales, 2871
Contacts
Email: tourism@forbes.nsw.gov.au
Phone: 02 6852 4155
Website: www.amazingforbesnsw.com
COVID-19 Alert: For ongoing updates on travel and Covid-19 visit the government website Visit the Forbes Cemetery to find the final resting places of the infamous bushranger, Ben Hall, who was shot dead just west of Forbes 4 days before his 28th birthday, Kate Foster, (born Catherine Ada Kelly) - sister of Ned Kelly, also of the bushranging "fame" - who drowned in the Forbes lake in 1898 (aged 35 years), and Rebecca Shield - great grandniece of Capt. James Cook - who, unlike Ben and Kate, died at the ripe old age of 84 years and whom little is known, among others of note. Pick up a brochure on the Historic Graveside Walk from the Forbes Visitor Information Centre.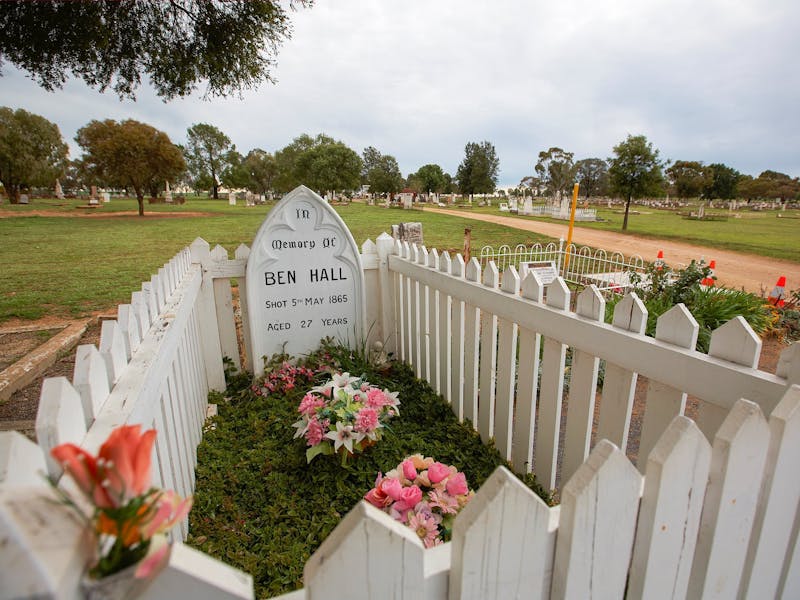 Select your region from the list below for more information on that location.