See + Do = Learn
Activities
Get ready for an unforgettable journey though architecturally stunning country towns, thoughtfully curated galleries, captivating museums and historic sites. Your visit here will take you outdoors over rich agricultural river flats, through untouched National Parks and even underground to magnificent prehistoric caves.
Select the location and the type of activity you would like from the search box.
Grenfell Commodities Silos
Corner South and West Street,
Grenfell, New South Wales, 2810
Contacts
Email: info@grenfellcomm.com.au
Phone: 02 6343 2110
The partners of local grain trading business, Grenfell Commodities, commissioned Melbourne based artist Heesco Khosnaran in 2018 to transform four silos into a canvas for Grenfell's largest artwork installation. The silos were built in 1925, with later additions to the northern end of the silos in 1961 and a bulkhead built in 1968 bought the capacity of the facility to over 23, 700 tonnes. Grenfell Commodities purchased the large storage facility, including the silos in 2015 from Graincorp. The silos had been dormant since 2007, though resumed operation once procured and continue to operate as a functional work site. The silo artwork is a compilation of images representing the contemporary farming industry and landscape of the Weddin Shire. The foreground features sheep, cattle, and native birds set in a landscape adorned by the Weddin Mountains National Park. The skyscape incorporates the natural sepia colour of the silo topped with light cloud coverage. The artwork is an adaption of photographs taken by locally renowned photographer Denise Yates of Five Hours West. The mural is best viewed from the corner of South Street and West Street.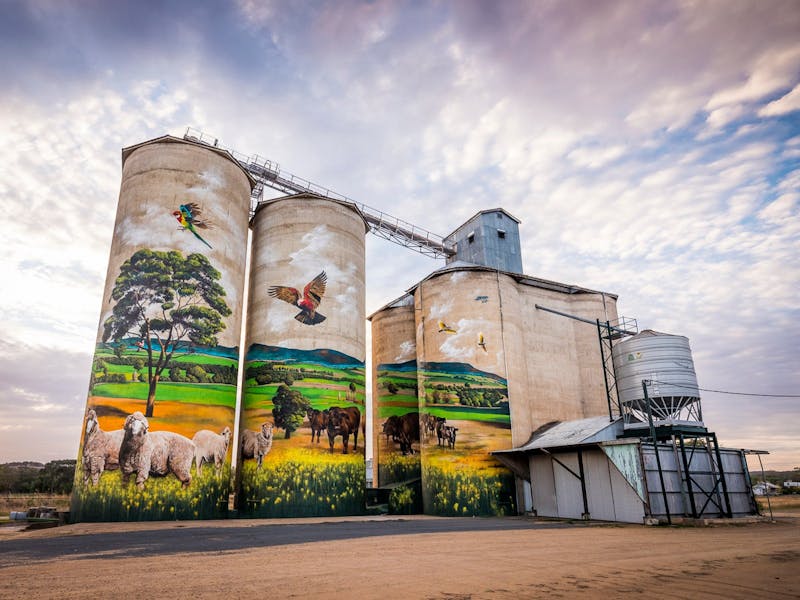 Select your region from the list below for more information on that location.