See + Do = Learn
Activities
Get ready for an unforgettable journey though architecturally stunning country towns, thoughtfully curated galleries, captivating museums and historic sites. Your visit here will take you outdoors over rich agricultural river flats, through untouched National Parks and even underground to magnificent prehistoric caves.
Select the location and the type of activity you would like from the search box.
Forbes NSW Rural Women's Gathering
1st April, 2022 - 3rd April, 2022
Harold Street,
Forbes, New South Wales, 2871
Contacts
Email: rwg2021forbes@gmail.com
Phone: 0418 611 053
Website: https://forbes2021nswruralwomensgathering.com/
The 2022 NSW Rural Women's Gathering will be held in Forbes. Note that this event has been postponed from 2020 and 2021 due to Covid 19. The township of Forbes is known for its historic buildings, agriculture and is situated on the picturesque Lachlan River. The NSW Rural Women's Gathering is an annual event bringing together all rural women including: farming women; Aboriginal women; women from culturally and linguistically diverse backgrounds; mining women; women in the fishing industry; women who live in regional cities, towns and villages; and coastal women. Gatherings are a well established annual statewide community event for all rural women. The Gathering also includes a partners program to encourage wider participation and the opportunity to spend time in a region beyond the initial weekend. Gatherings are an opportunity for women to learn, increase their skills and share time with each other. A local committee, assisted by the Rural Women's Network, works to highlight the unique culture, industry, tourism and environment of the host community.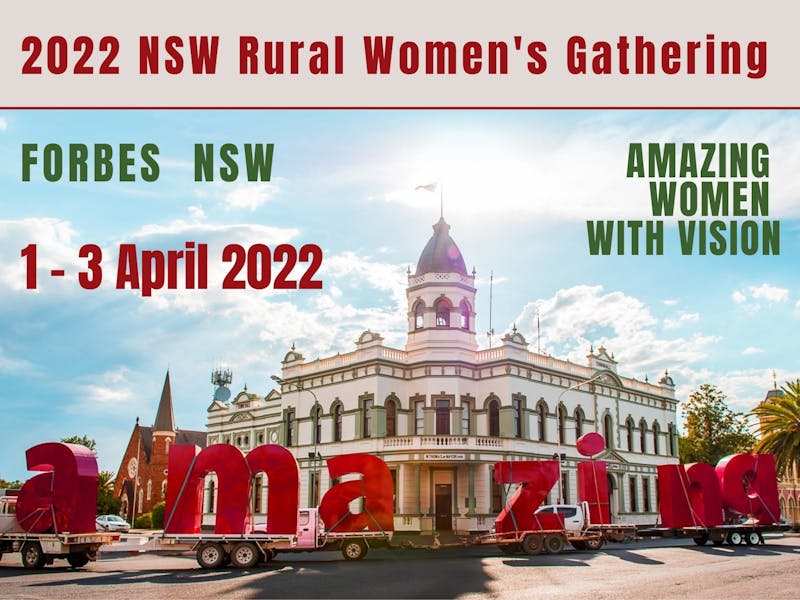 Select your region from the list below for more information on that location.