See + Do = Learn
Activities
Get ready for an unforgettable journey though architecturally stunning country towns, thoughtfully curated galleries, captivating museums and historic sites. Your visit here will take you outdoors over rich agricultural river flats, through untouched National Parks and even underground to magnificent prehistoric caves.
Select the location and the type of activity you would like from the search box.
Forbes Heritage Trail
,
Forbes, New South Wales, 2871
Contacts
Email: tourism@forbes.nsw.gov.au
Phone: 02 6852 4155
Website: www.amazingforbesnsw.com
COVID-19 Alert: For ongoing updates on travel and Covid-19 visit the government website. Abundant in history, Forbes has long been known for its historic buildings, most of which are still in use today. Many were featured in the film 'The Dish'. The Heritage Trail allows you to explore the township and its unique heritage. A self-guided walking tour throughout the Forbes CBD and surrounds providing a comprehensive insight into the magnificent architecture and heritage features that make the Forbes township so unique. The CBD Walk (18 Sites - 110 minutes to complete). Walk or Drive (Two Sites - 40 minutes to complete). Drive (Four Sites - 30 minutes to complete). Collect a copy of the Centenary of Federation Heritage Trail brochure and map from the Forbes Visitor Information Centre, which is located in the historic Railway Station (one of the listed heritage sites - no. 19 in the brochure) in Union Street.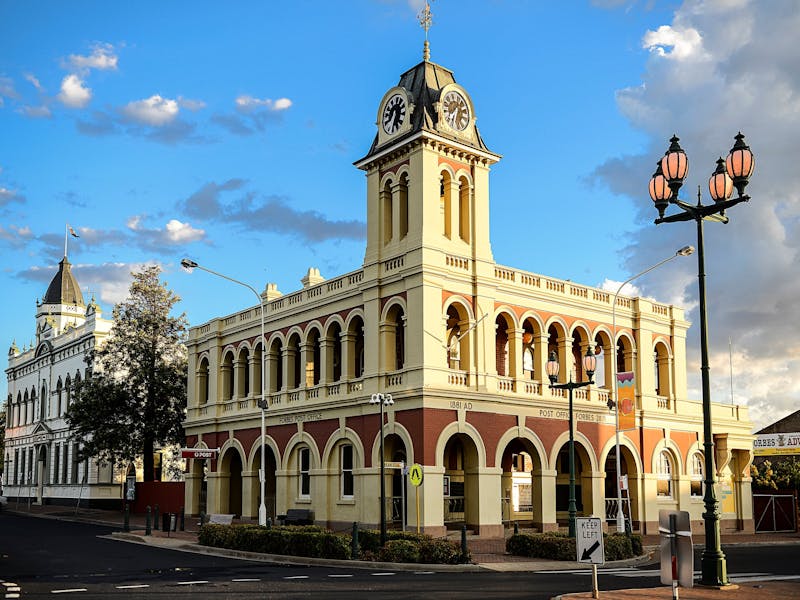 Select your region from the list below for more information on that location.