Stay
Places that suit your style
Whatever type of accommodation you fancy, there are all sorts of interesting places to kick back for the night throughout Central NSW. Continue your journey in a romantic cottage set among the vines of a cool climate vineyard, or with a genuine Aussie farming family on a historic sheep farm. From charming B&Bs and boutique hotels to caravan parks and well-known favourites, there is a place here for every traveller.
Select the location for your stay and the type of accommodation you would like from the search box.
Blayney and Villages Tourist Park
18 Quamby Place, Blayney
Blayney and Villages Tourist Park offers 42 powered sites - including eight drive through, two en suite powered, 50 grass and shaded sites, 12 refurbished en suite cabins, a deluxe cabin and 20 workers en suite Dongas with heavy vehicle parking available.
.....more
---
The Millhouse at Athol Gardens
84 Newbridge Road, Blayney
Set in the heart of Blayney on a working cattle farm The Millhouse is a two-bedroom, 1 1/2 bathroom cottage. This heritage-listed, enchanting and award-winning accommodation was built in 1865 as a mill. It is the most intact of the four mills built in the region.
.....more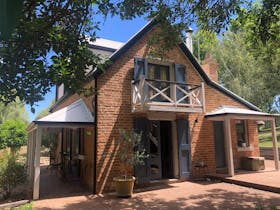 ---
Select your region from the list below for more information on that location.